Something About Company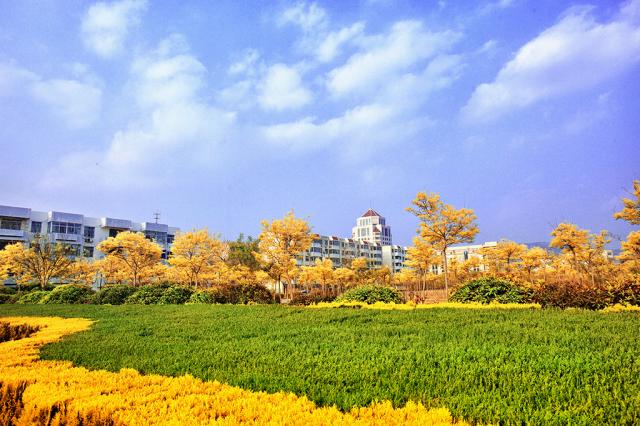 About Jiangsu Ocean University

Jiangsu Ocean University is a full-time general undergraduate university in Jiangsu Province. From 1998 to 2002, the former Jiangsu Salt Industry School, Lianyungang Aquatic School and Lianyungang Chemical Industry College, all with a history of more than 40 years, were merged into the Huaihai University of Technology. In August 2013, the Academic Degrees Committee of the State Council approved the university to be a master's degree granting unit, and in July 2017, the university became a doctoral degree granting project construction unit.
The university is located in Lianyungang, the core area of the "Belt and Road" intersection, the eastern bridgehead of the Asia-Europe Continental Bridge, and the first coastal open city in China. The main campus (Cangwu Campus) is located at the west foot of Huaguo Mountain, a national 5A scenic spot and the birthplace of the culture of "Journey to the West", with a total area of 2,184.87 mu and a campus area of 645,300 square meters. There are more than 1,600 faculty members, 20,000 full-time undergraduate students and 1,200 graduate students. The university has 20 colleges, offering 69 undergraduate majors, covering ten disciplines including engineering, science, management, literature, agriculture, law, economics, art, education and medicine.
The university has a team of teachers who love the cause of higher education, have the ability of teaching and research, put equal emphasis on theory and practice, and have both moral and academic qualities. 620 of the 1213 full-time teachers have senior titles, of which 163 are senior and 459 are doctors. There are 2 national outstanding teachers, 2 Jiangsu teaching masters, 2 Jiangsu high-level innovative and entrepreneurial talents, 4 Jiangsu special professors, 3 Jiangsu young experts with outstanding contribution, 2 Jiangsu outstanding youth fund winners, and 2 Jiangsu "333 high-level talents" training project, Jiangsu More than 100 teachers have been appointed as part-time professors, doctoral supervisors and master's supervisors by universities at home and abroad. The university has employed a number of famous experts and scholars such as Jiang Xingwei academician as part-time professors of the university.
The school insists on talent cultivation as the center, and strives to cultivate compound application talents with good foundation, high quality, strong ability, maritime consciousness, innovation spirit and family sentiment, who are fully developed in moral, intellectual, physical and aesthetic aspects. At present, there are 8 national first-class undergraduate majors, 4 majors have passed the certification of engineering education by the Ministry of Education, 3 national specialty majors, 2 national pilot projects of comprehensive reform of majors, 4 Jiangsu provincial brand specialty construction projects, 9 Jiangsu first-class undergraduate majors, 9 Jiangsu specialty majors, 9 Jiangsu specialty majors and 9 Jiangsu specialty majors. 9 specialties in Jiangsu Province, 9 key majors (classes) in Jiangsu Province.
Jiangsu Ocean University takes the leadership of curriculum thinking and government, and in accordance with the general requirements of "broadening the foundation, emphasizing the application and strengthening the quality", constantly expands the total number of courses, optimizes the course structure, reforms the teaching mode, and actively creates first-class courses. The university has built a first-class talent training curriculum system with clear mapping of students' values, comprehensive quality and ability structure, and has built 2 national first-class undergraduate courses and 16 provincial high-quality online open courses. The university has continued to deepen its education and teaching reform, and has undertaken the "National Education System Reform Pilot Project – Comprehensive Credit System Reform" in Jiangsu Province, which passed the acceptance appraisal hosted by the provincial education department and was selected as a typical case of national education reform and innovation. In the past five years, the school has won two second-class awards for national excellent teaching achievements, two first-class awards and seven second-class awards for excellent teaching achievements in Jiangsu Province. The student dragon boat team has won the championship of China University Student Dragon Boat Championship four times and the World University Student Dragon Boat Championship three times. More than 3,600 students of the university have won awards in various national and provincial competitions.
The university insists on taking scientific research and social service as two wings, and strives to provide intellectual contribution and technical support for local economic and social development. According to the national strategic needs and regional development characteristics, optimize the discipline structure, condense the discipline direction, marine science is the advantageous discipline in Jiangsu Province, mechanical engineering is the key (cultivation) discipline in Jiangsu Province, control science and engineering, computer science and technology, biological engineering, materials science and engineering, pharmacology, Chinese language and literature, applied economics and other seven disciplines for the key construction of Jiangsu Province. The university has 6 master's degree authorization points of primary disciplines and 5 professional master's degree authorization points. The university has built a number of science and technology research and development and service platforms with distinctive marine characteristics and strong disciplinary power. There are 1 postdoctoral research station, 10 provincial key laboratories and engineering research centers, 1 provincial social science key research base, 1 provincial social science base cultivation point, and 1 provincial collaborative innovation center. 2021 May, Jiangsu Ocean University University Science and Technology Park was recognized by the Ministry of Science and Technology and the Ministry of Education as the national university science and technology park. In recent years, it has won 53 scientific research awards at provincial and ministerial level and above, including 2 national science and technology awards.
The university insists on opening up to the outside world and international cooperation as a breakthrough, and strives to build a high-end platform for regional economic and social development and cultural exchange. At present, the university has signed education and scientific research cooperation agreements with many foreign universities, and has maintained friendly relations with dozens of universities in the United States, Japan, Germany, Britain, Canada, Australia, New Zealand and South Korea. In cooperation with Makarov National Shipbuilding University of Ukraine, the university has established the Makarov Institute of Marine Engineering of Jiangsu Ocean University, which is a Sino-foreign cooperative educational institution. The overseas study program for students is operating well, and the scale of international students coming to the university is steadily increasing.
The university has complete and functional infrastructure and schooling conditions. The university has 12 provincial experimental teaching and practical education centers, 73,100 sets of various teaching and research experimental instruments and equipment, with a total value of 396 million yuan. The library has more than 1.86 million paper books, 800 kinds of Chinese and foreign language paper periodicals, 1.16 million electronic periodicals, 11.19 million dissertations, 10,742 hours of various audio and video, 25 kinds of electronic literature databases such as China Knowledge Network, EBSCOhost, Springer-Link, ScienceDirect, etc., and 6 self-built sub-databases with characteristics of marine topics. The university has 25 kinds of electronic literature databases such as China Knowledge Network, EBSCOhost, Springer-Link, ScienceDirect, etc., and 6 special sub-databases on marine topics. With a total area of 137,000 square meters, the university has a large number of indoor and outdoor sports facilities, including the main sports field, the second sports field, the main gymnasium, the dragon boat training hall, the swimming pool and the aquatic training field, which can meet the needs of physical education, sports training and group activities. The school is a national model unit of greening, with a greening coverage rate of 50%, and an ecological, gardening and saving campus has been basically formed.
Jiangsu Ocean University has won many honors such as National Advanced Collective of Internal Audit, National Advanced Unit of Social Practice for College Students, Jiangsu Civilized Unit Pioneer, Jiangsu Advanced Unit of Faculty Construction, Jiangsu Advanced University of Science and Technology, Jiangsu Excellent Unit of Graduate Student Enrollment Management, etc.
The 21st century is the century of ocean. At present, teachers and students of the university are closely focusing on the national strategy of ocean power and the construction of "one belt and one road", giving full play to the location advantage of being located in the coastal city, and striving to accelerate the construction of a high-level applied research-oriented marine university.
Jiangsu Ocean University has posted
2

jobs