Teaching English at North China Electric Power University (Baoding)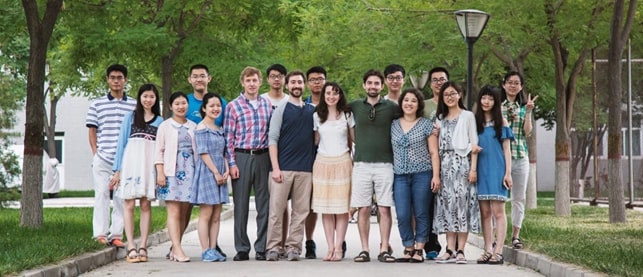 Mission
I. Teach English language and western culture at North China Electric Power University (Baoding)
II. Assist the undergraduate and postgraduate students to enhance their English skills and improve their confidence in speaking English
III. Obtain international work experience to stand out in a global job market
IV. Develop team-working and adaptability skills in a different culture
V. Experience the culture and history of China
North China Electric Power University (NCEPU) is one of the "Project 211" and "Project 985 in Superior Discipline Innovation Platform" universities under the direct jurisdiction of the Ministry of Education in China. In 2017, it entered the national "Double World-class" university list, aiming at developing world-class disciplines in "Energy and Power Science and Engineering". There are about 3,000 faculty and staff, 20,000 full-time undergraduates, and around 10,000 postgraduates.
We welcome you to join us!
Position Information
Position: English Language Teacher
Vacancies: 6
Period of Service: August, 2021 to July, 2022
Courses: English language (listening, writing, speaking, literature, etc.) and culture
Workload: No more than 16 class hours per week
Size of a Class: No more than 45 students
Basic Qualifications for Application
I. Hold a Bachelor's degree or above (if your diploma is not yet available, please submit an official verification of the diploma from your university first)
II. Native or bilingual proficiency in English
III. Because of the current global epidemic situation, it is most preferable if the applicant is already in mainland China.
Key Terms of Contract
Salary in cash: 70,000-95,000 RMB per academic year (7,000-9,500 RMB per month, ten months per academic year. Note: About 60-240 RMB income tax per month included);
Travel allowance: 7000-9500 RMB per academic year (tax included);
Lunch subsidy: 1,000 RMB per academic year (will be deposited into your dinning card);
Taxi subsidy: 1,000 RMB per academic year;
One-time subsidy for purchasing basic tableware: 500 RMB;
Overweight luggage allowance: 1,000 RMB per academic year;
Medical insurance (accident insurance included): around 1,700 RMB per academic year;
On-campus well-furnished apartment (including utilities fees: water, electricity and internet): valued at 18,000 RMB per academic year;
Additional Perks: two tours surrounding Baoding per academic year for foreign teachers to experience Chinese culture, at least one for each semester. (Travel expense covered by NCEPU: about 1,000 RMB for every foreign teacher per academic year)
Total Income (income tax included) offered by NCEPU: about 104,200-129,200 RMB (including income tax: about 1250-3750 RMB)
International airfare and domestic transportation: NCEPU will provide a round-trip international airfare and domestic transportation for the foreign teacher having a one-academic-year contract.
Arrival Support: Picking up from the airport in Beijing, China.
Accommodation: On-campus apartment well-furnished with washing machine, TV, refrigerator, air-conditioning, air purifier, telephone, computer, internet, kitchenware and so forth.
Note: The monthly salary and travel allowance differ according to the teacher's education background and teaching experience.
If you are interested in this position, please send the following documents to us and you can get more information about NCEPU on the website www.ncepu.edu.cn.
Document List
Details
1. Resume
Educational background (starting from high school period) and work experiences included; contact persons (and their ways of contact) for each educational and working experience.
2. Scanned copy of passport
Scanned copy
3. Photos (head-shot & full-length)
Full-length photo needed
4. Scanned copy of diploma
If your diploma is not yet available, please submit an official verification of the diploma from your university first
5. Reference letter(s)
Written by a teacher, or by an employer
6. Qualification certificate: TEFL (Teaching English as a Foreign Language) or the like
It is needed if you don't meet either of the following requirements:

1. Hold a Bachelor's (or above) degree in Education, Language or Teaching

2. 2-year (or above) work experience in language teaching